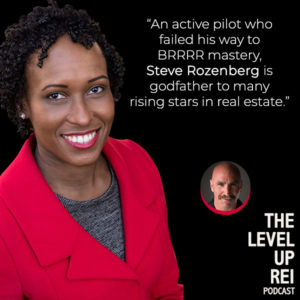 Lisa Hylton interviews Steve Rozenberg on her Level Up REI Podcast in the episode Failing To Millions: How This Active Pilot Built His Own Real Estate Empire With Steve Rozenberg. Steve talks about how he got into real estate after being furloughed during 9/11.
Lisa Hylton
"…a colleague of mine introduce me to passive real estate investing. The light bulb went on. There was an easier way. This experience also helped me realize that so many of the opportunities we get in life come down to being in an environment that educates and inspires us.
That's why I'm on a mission to empower people around the world to generate smart passive income through real estate investments.
So you can get started sooner, achieve financial freedom faster and create the life you desire.
To your future success,
Lisa Hylton"
Lisa offers her 7 day Passive Investing Made Easy series! Check out this free series to see how investing in private real estate investment syndications can build long term wealth & generate streams of cash flow. Sign up here.