UPCOMING EVENTS
---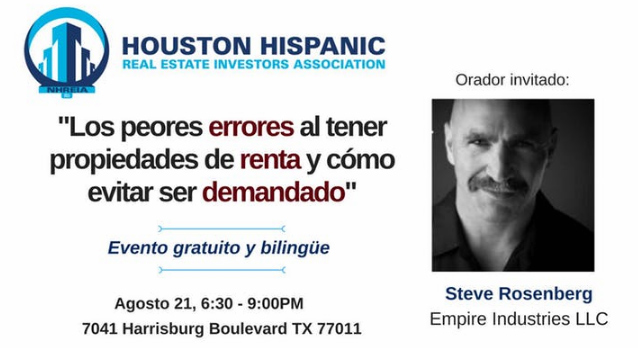 ---
Pete will be on the panel at 2:20PM
"Property Management Technology-Build Vs. Buy Vs. Outsource"
Steve will be on the panel at 5:15PM
"Property Management-The Small/Medium Sized Firm "C" Management Session"
Inaugural Residential Property Management Forum
September 13 – 14, 2018, Dallas, TX
Managing the 4-plex market
Software that makes sense
Should you hire a property management company? Fee structures for all vendors
Green best practices on a small scale
When can you use an internal property manager?
Metrics for the small firm
Mobile apps-What do you use?
Tenant management
What to look for in a demo
Integrating personal and business programs
Is managing by exception effective?
---
Topics include:
* Rehabbing, Flips & Wholesaling
* Lease Purchase and Lease Options
* Rent to Own Strategies
* Buy and Hold investing
* Commercial Property Investing
* Foreclosures, Short Sales, REO
* Probate Investing
* Creative Real Estate Financing
* Private and Hard Money Lenders
* Investing in Discounted Notes
* Real Estate Negotiating Techniques
* Asset Protection and Tax Strategies
* Self-Directed IRA's
* Passive Vs. Active Investing
* Tips for Skyrocketing Your Wealth
Third Annual Lone Star State Expo
September 15, 2018 – Arlington, Texas
This COMPLIMENTARY EXPO is Designed for YOU, to Help You BUILD Collaborations with Industry Leaders.
Realty411, the longest-running real estate investor's magazine owned by the same California investor is having an amazing ONE DAY complimentary expo. This complimentary event in Arlington, Texas will feature some of the most active investors in California and out of state.
---
NARPM Orlando, Florida – November 2018