Listen to "You Can Overcome Anything: Episode 9 – Failing His Way To Millions – Steven Rozenberg" on Spreaker.
Cesar R. Espino Interviews Steve Rozenberg who talks about his journey and failing is way to Millions.
Steve Rozenberg is the Vice President of Education for Mynd Property Management. In this role, he educates individuals about the benefits of small residential investing at various events, investor meetup groups, and much more. He co-hosts a real estate investing podcast called The Myndful Investor with Mynd's Chief Growth Officer, Alex Osenenko. The first season of The Myndful Investor just debuted in mid-December.
About Cesar Espino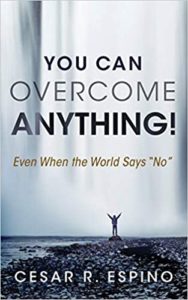 Cesar Espino is the author of the book You Can Overcome Anything!. His passion for motivation and his drive to succeed go back to his roots. Born in Mexico City into a society of poverty and very little hope, it took years for him to recognize that a larger purpose had been set in front of him, one that he would chase for the rest of his life.
As a child, Cesar was giving and caring, saving the few pesos he was given (and oftentimes with no money whatsoever for weeks) only to give them to others for enjoyment. As an immigrant to the US, there were many challenges to overcome, including acclimating to his new world, adjusting to a culture comprised of multiple backgrounds and ethnicities, and simply wanting to fit in when the main barrier was communication.
As a young adult, Cesar worked his way up the ladder in the logistics industry, holding multiple management positions with major worldwide companies. With a passion for becoming more, bringing value to others, taking life to the next level, and leaving a legacy, his major focuses are self-development, building relationships, helping others, and creating a business empire.
You Can Overcome Anything is as much a recounting of Cesar's determined journey as it is a reminder that when you have a dream and refuse to give up, anything is possible.